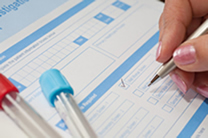 Home Visit Request Form
Use the links below to download an editable Home Visit Request Form. You may open and print the form or enter your practice information and save to your desktop for quick and easy access.
To avoid delays in scheduling home vists, please make sure all information is filled out including valid DX codes. Visit our "Help with ICD-9 Codes" page if you are unsure of a valid code.
For recurring patients you may also use our "Reorder Tests" box on the bottom of your final results. Please note that end dates and valid DX codes are required on all orders.